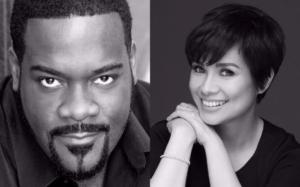 Once on This Island, with its storm-ravaged Caribbean village, will cut deep for theatregoers as they draw parallels to this year's horrific hurricane season and its painful ongoing aftermath. Yet in the end, this Romeo and Juliet musical revival laced with fantasy offers music, dances, and a message of hope—qualities that make this production a potential standout in the season's formidable cluster of new musicals.
The cast is made up of several prized Broadway performers, including Tony winner Lea Salonga, who originated the role of Kim in the original production of Miss Saigon to rave reviews and standing ovations, and Tony nominee Phillip Boykin, whose striking performance as Crown in Porgy and Bess opposite Audra McDonald still haunts me. As for the storyline, it juxtaposes star-crossed lovers with powerful island gods— including Erzulie, played by Salonga—and "the timeless power of theatre to bring us together, move our hearts, and help us conquer life's storms."
Previews for Once on This Island begin November 9th; for tickets visit onceonthisisland.com.