Once On This Island Broadway Reviews…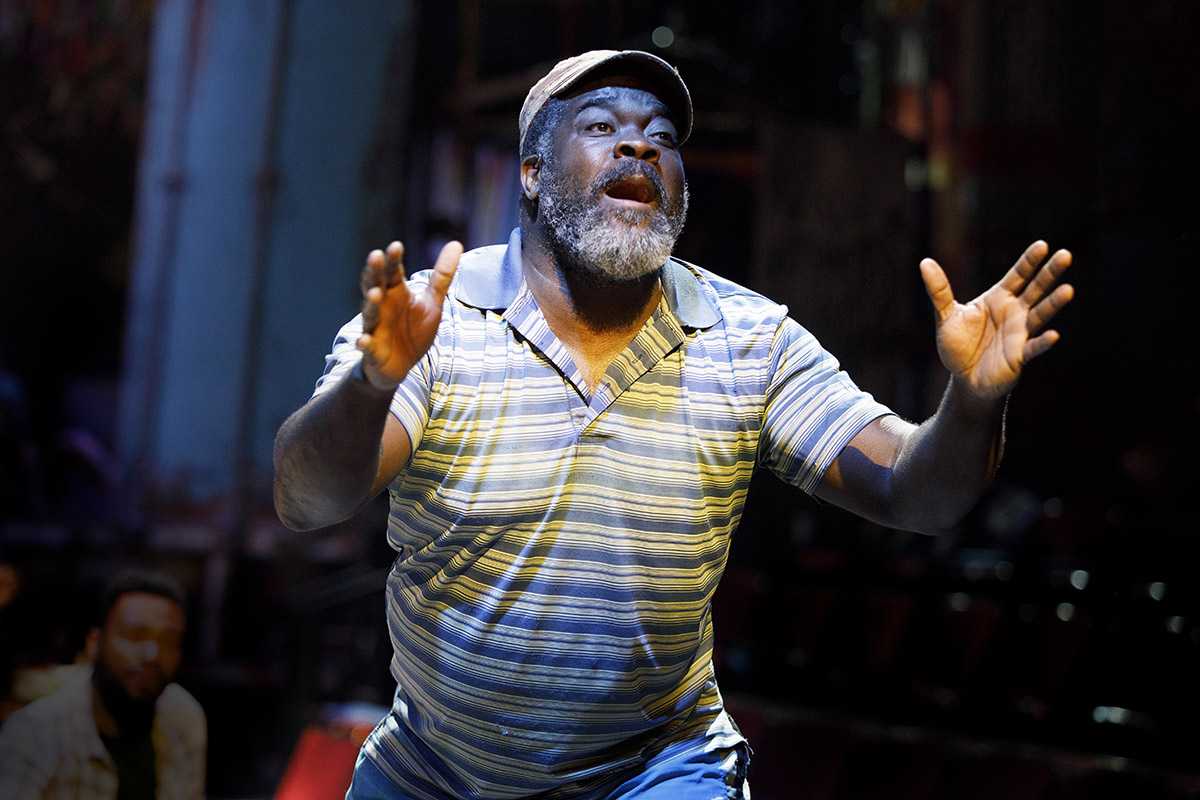 THE HOLLYWOOD REPORTER | BY David Rooney
Some of the most ravishing singing comes from Miller and Boykin, heartbreaking as the adoptive parents reluctantly forced to let their cherished daughter go.
The Daily Beast | BY Tim Teeman
Oh, the singing. Kilgore's voice is pure and resonant, Phillip Boykin and Kenita R. Miller, as Ti Moune's adoptive parents, who worry for her safety, sing beautifully too, their warmth and love for Ti Moune feel as an all-encompassing musical blanket by the audience too.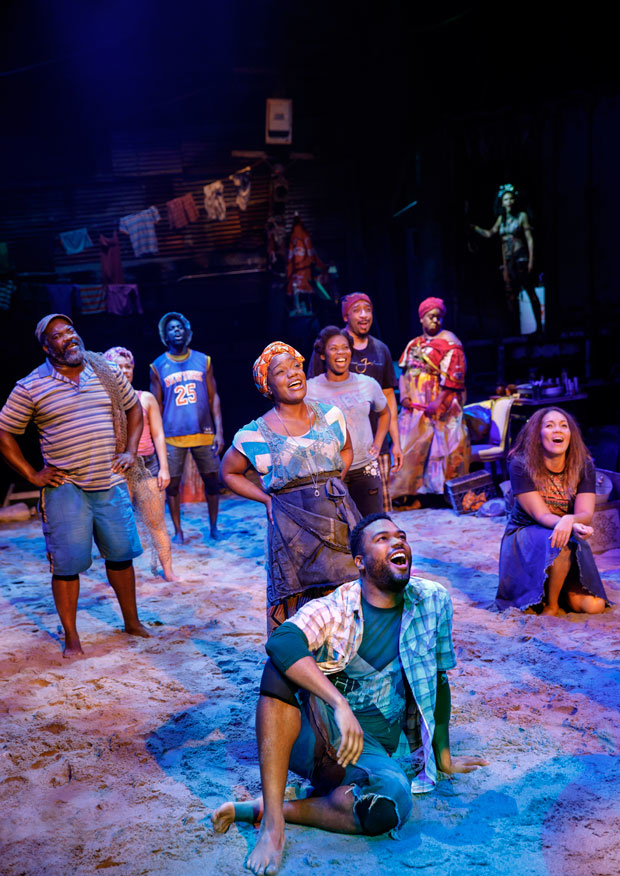 THEATERMAINIA | BY Hayley Levitt
Mama Euralie and Tonton Julian (a pair of touching performances by Kenita Miller and Phillip Boykin)
STAGE BUDDY | BY Matt Smith
In terms of the performers themselves, well, you know you can't get any better than this trusty group. Backed by perennial standouts like Tony-nominee Philip Boykin, whose booming baritone will instantly cure all your troubles.
ON STAGE BLOG | BY Joseph Verlezza
A very long time ago a catastrophic storm destroyed the island and in the aftermath, as two older islanders, (portrayed by the remarkable Phillip Boykin and Kenita R. Miller)
New York Theater | BY Jonathan Mandell
Tonton Julian (Phillip Boykin, magnificent as always, but this time kindly, in sharp contrast to his Tony-nominated performance as the evil Crown in Porgy and Bess.)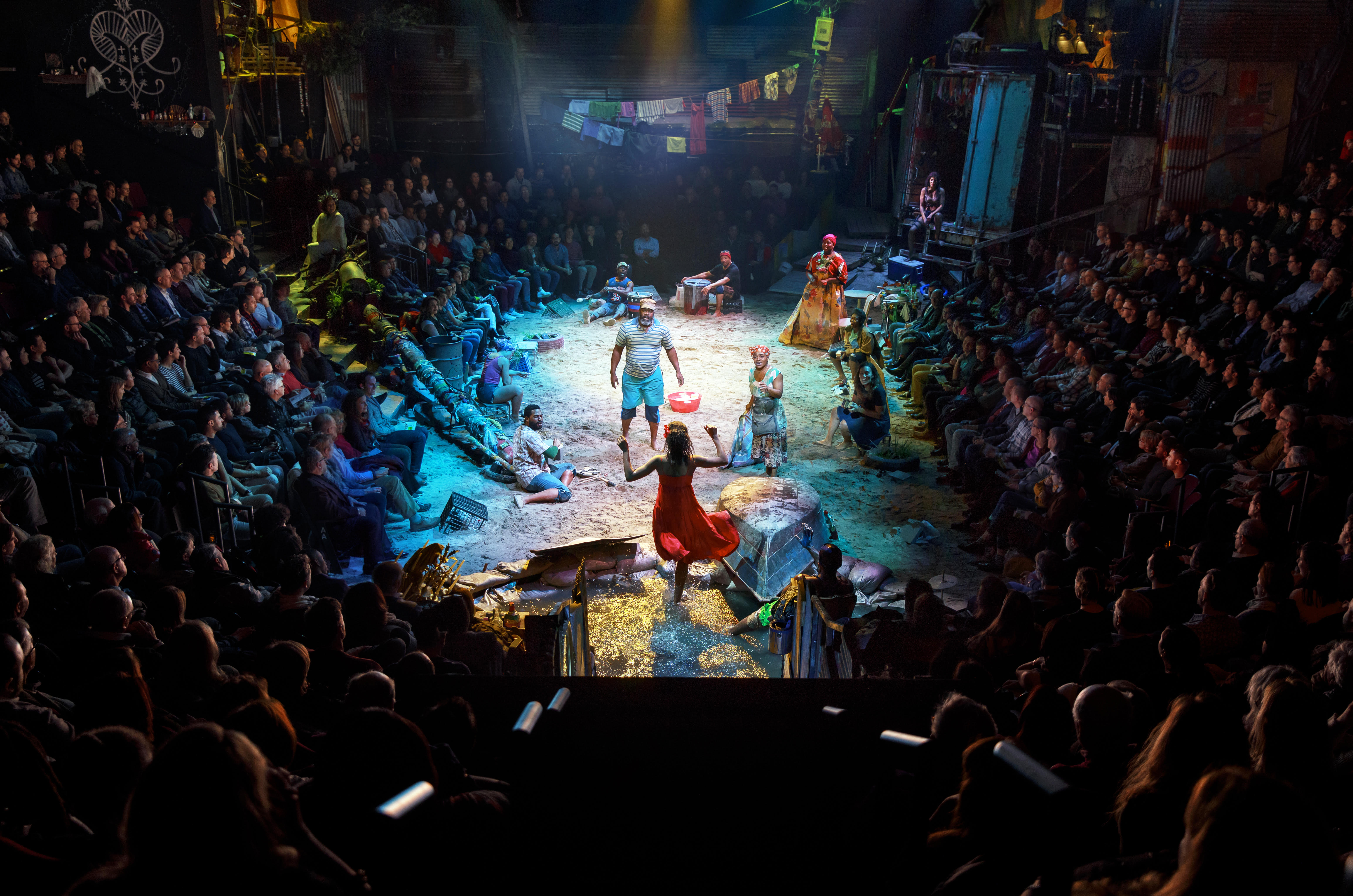 Theater Scene Net | BY Victor Gluck
…the voices of the cast are glorious, from Salonga and Newell's lustrous sopranos to Darrington and Boykin's resonant baritones. Brilliantly cast each actor brings another quality to this
Carribean story. Kilgore is a wide-eyed, impassioned and unsophisticated Ti Moune, while Powell is a charming yet entitled Daniel. Boykin and Miller are compassionate and understanding as Ti Moune's middle-aged adoptive parents.
CRITICS AT LARGE | BY Michael Lueger
Many of Kilgore's castmates also acquit themselves well. Kenita R. Miller and Phillip Boykin are especially affecting as her adoptive parents…
---
"SONDHEIM ON SONDHEIM"
Hollywood Bowl
LA Philharmonic Orchestra
Review by: LevelWithMusic
Unquestionably, the star of the evening was Phillip Boykin. With little context given for the songs and at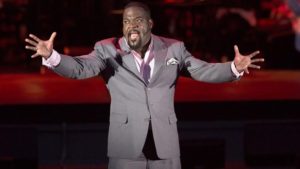 times not enough information to understand the characters' motivations or emotions, the audience was periodically left to enjoy the beauty of the music without actually knowing what was going on in the songs. Boykin sliced through this limitation with charisma and a voice to die for. His Sweeney Todd flashed from despair to madness. Even more compelling was his heart-stopping Leon Czolgosz in "The Gun Song" from "Assassins" – his performance resonating with the song's desperate feelings of injustice. The musical tells the story of presidential assassins and wannabes, presenting the challenge of making these villains compelling characters and juxtaposing beautiful music with ugly stories. The Bowl production included the male trio portion of the song, bringing the audience to moments of pin-drop breathless silence as the singers pointed finger guns into the crowd.
Review by: Tony Frankel
My favorite was basso profundo Phillip Boykin, Tony-nominee from Porgy and Bess (sorry The Gershwins' Porgy and Bess); his growling rumbling "Epiphany" from Sweeney Todd roared through the back of my skull.
---
Symphony Hall
Boston Pops Orchestra
Review by: Justin J. Sacramone
"…Boykin managed to deliver a strong performance…"
---
Tanglewood
Review by: Diane Nottle
"If opera is the bass-baritone Phillip Boykin's comfort zone, he easily transcended it. He started the split "Epiphany" sitting almost too calmly on a stool, then picked it up after Sondheim's commentary with a vehemence befitting the character. While equally intense as Czolgosz in "The Gun Song" from Assassins — one of the evening's most fully realized numbers, with Boykin nimbly handing it off to ensemble members — he also showed a comic side as the producer in "Opening Doors" ("There's not a tune you can hum …")."
---
Sunday in the Park with George Reviews…
NEW TIMES Review by Ben Brantley Feb. 23, 2017
The supporting cast, so generously laden with marquee talent it's almost an embarrassment of riches, includes Ruthie Ann Miles; Phillip Boykin; Robert Sean Leonard; Brooks Ashmanskas; and, as Seurat's self-involved elderly mother, a very touching Penny Fuller (whom I saw as Eve Harrington in "Applause," one of my first Broadway shows).
Review by: Marilyn Stasio
The rugged boatman gazing into the water comes alive in Philip Boykin's boisterous portrayal,
Review by: SOPHIE GILBERT
But the supporting cast, too, are adept at bringing comic relief, and balancing the harmony of the show: Robert Sean Leonard as Jules, an accomplished artist; Penny Fuller as George's mother, lost in nostalgia; Phillip Boykin as a foulmouthed and obstreperous boatman. The peripheral characters by their nature are fleeting archetypes, included to provide contrast with the more textured portrayals of George and Dot.
Review by: ALLISON ADATO
(Other solid supporting players include Robert Sean Leonard as a rival artist, and Phillip Boykin as the boatman, the show's working-class conscience.)
Review by: by Ran Xia
The New York City Center production's transplant features a stellar ensemble: Phillip Boykin's Boatman, Robert Sean Leonard's Jules, Claybourne Elder's Soldier, just to name a few, all leave lasting impressions. With a dedicated orchestra, Ann Yee and Chris Fenwick stage and direct an excellent musical arrangement. Beyond that, the most impressive elements of the show are the set and projection designs.
Chicago Tribune Review By: Chris Jones
…and Phillip Boykin sing a score that must remain a pleasure to perform, as it surely is to hear in any theater.
Review by: David Rooney
Phillip Boykin's bassissimo gruffness is an ideal fit for the Boatman
---
Theater in the Now
Review: Hooray for the Pirates
…The concert featured a main cast of actors led by Phillip Boykin as vivacious the Pirate King, Deborah Voigt as homely Ruth, Hunter Parrish as dashing Fredrick, Julia Udine as the stunning Mabel, Tony winner Douglas Hodge as the Modern Major General, knockouts Betsy Wolfe and Montego Glover as sisters Edith and Kate respectively, and David Garrison as the timid Sergeant of Police. Each brought their A game but it was the wall of sound behind them that stole the show. The endless rows that comprised Master Voices served as the perfect masterful vocal ensemble.
…Phillip Boykin was animated as the Pirate King. He had the baritone but brought some extra comic moments by utilizing his falsetto upper register.
…Opera Veteran Deborah Voigt as Ruth brought a whole lot of fun to the pirate maid. She paired well with Boykin, especially during "Paradox."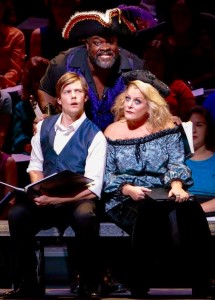 Theater is Easy
…Vocally, the strongest performances came, naturally, from the singers with the greatest experience in opera—namely, Deborah Voigt as Ruth and Phillip Boykin as the Pirate King (hamming it up way beyond even what the ridiculous plot requires).
Master Voices Are the Stars of Pirates of Penzance
Rick Perdian
…Phillip Boykin was a flamboyant, larger-than-life Pirate King. His antics could be toned down a tad, but he is an entertainer. His vibrant bass baritone wrapped itself marvelously around the rousing "Oh, Better Far to Live and Die a Pirate King," and he showed a true delight in the text.
THEATERSCENE.COM
by Deirdre Donovan
… The singing and acting were terrific. Deborah Voigt was superb as the devoted nurse Ruth and Phillip Boykin, as the Pirate King, had plenty of twinkle.
Edge Media Network
by Steve Weinstein
… In typical G&S style, there was a quick exposition from the head pirate, here played to the hilt by Phillip Boykin, that quickly made clear this band, all orphans, was less cut-throat than the Neverland Lost Boys. When Frederick explained that, even though he loved his comrades, upon reaching his majority at midnight he would seek to have them all destroyed, you couldn't help but feel sorry for them. Such nice guys!
Voce di meche
meche kroop
… The amplification was irritating and the diction was poor with only Broadway star Phillip Boykin (as the Pirate King) and Douglas Hodge (as Major General Stanley) exhibiting good enough diction to catch most of the words. Gilbert's text is so clever it is criminal not to enunciate clearly.
The Sacramento Bee
Review By Marcus Crowder mcrowder@sacbee.com
Theater review: 'Big River' stays true to Twain's great story
Yet the overwhelming, life-affirming presence of Phillip Boykin's Jim crushes any justification of human bondage. Boykin, so affecting at Music Circus as Joe in 2013's "Show Boat" and a Tony Award nominee for his work in "Porgy and Bess," again showcases his world-class bass baritone voice throughout the production.
The Davis Enterprise
Review By Bev Sykes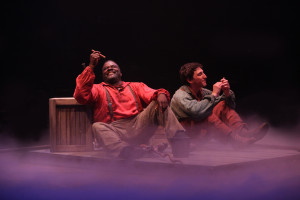 Music Circus presents stunning, poignant classic 'Big River'
Boykin is definitely old for the role of Huck's companion, though the age difference melts away with Jim's back story of having been separated from his wife and children, and with the paternal role he takes in Huck's life.
And what a voice! I'm sure the roof must have been vibrating with the power of his delivery in "Muddy Water" and "Free at Last." Boykin gives Jim a quiet dignity that is at the heart of this show
Reviews of On The Town on Broadway at the Lyric Theater
USA TODAY
Review by Elysa Gardner
"The first character we meet in the gorgeous new Broadway revival of On the Town (**** out of four stars) is an unnamed workman in the Brooklyn Navy Yard, played by the mighty-voiced Phillip Boykin. Boykin appears in the aisles, as other performers will, leading the audience in The Star-Spangled Banner, then seguing into a vigorous but plaintive reading of the opening song, I Feel Like I'm Not Out of Bed Yet. It's a hint that this Town, which opened Thursday at the Lyric Theatre, may not prove as shiny a romp as the 1949 film adaptation, which featured star turns by Gene Kelly and Frank Sinatra but ditched some of the more moving, sensual music that Leonard Bernstein had composed for the musical."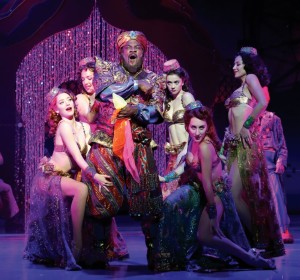 The Hollywood Reporter
'On the Town': Theater Review
Review by David Rooney
"There's richly soulful feeling also in the Brooklyn Navy Yard dockworker's opening song, "I Feel Like I'm Not Out of Bed Yet," beautifully performed by bass-baritone Phillip Boykin."
HARTFORD COURANT
Review by Frank Rizzo
"If you're looking at a show for Aunt Tulip…: Want a sure thing for theatergoers of a certain age, if not a certain era? Then the revival of "On the Town" is a sure crowd-pleaser. Hartt School grad Phillip Boykin opens the show with his glorious basso voice followed by the rest of the stellar cast…"
Review by Marc Miller
"After "The Star-Spangled Banner," a rich-voiced dock worker—Phillip Boykin, no less, Crown to Audra MacDonald's Bess a couple of seasons back—launches into "I Feel Like I'm Not out of Bed Yet," and even this rangy reverie is played for (and wins) laughs."
Review Bill McGlauhlin
"Last but not least, what cannot we say enough about Phillip Boykin's magnificent, deep, mellifluous voice!"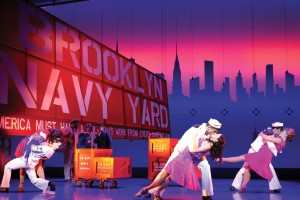 THE SOURCE
Review by Alexa Politis
"Opening the show was the penetrating voice of Phillip Boykin, whose charisma set the tone of musical."
Review by Larry Murray
"The living subwoofer Phillip Boykin – who opens the show with the rumbling notes of "I Feel Like I am Not Out of Bed Yet" – was singing directly next to my seat, which shook as he delivered the lowest note I have ever heard in my life."
Review by Jonathan Baz
"Elsewhere, popping up in numerous tiny roles is Phillip Boykin's perfectly booming baritone. Boykin has only just wowed London as Crown in the Open Air Theatre's Porgy and Bess, so as a visiting Brit in New York it is a true joy to re-encounter this gifted performer."
Review by Brenda Tobias
"Mention must be made of Philip Boykin who opened the show with I Feel Like I'm Not Out of Bed Yet. He enlivened and deepened every character he played and was an absolute joy to behold."
CULTURAL WEEKLY
"There are also riotously effective contributions from a deep-voiced Philip Boykin, a pompous Michael Rupert, an antic Allison Guinn, and a versatile Stephen DeRosa. Altogether a wonderful Town."
Review by Eugene Paul
"Then, the great flag curtain lifts, it's three minutes to 6 AM at the Navy Yard and magnificent Philip Boykin in glorious voice, sings "I Feel Like I'm Not Out of Bed Yet", an absolute Bernstein delight – and we're off."
Review by David Barbour
"The big-voiced Phillip Boykin rattles the rafters as a dock worker in the opening number, "I Feel Like I'm Not Out of Bed Yet."
The British Theater Guide
Review by Howard Loxton
Boykin's Crown is not only the biggest man on stage; he gives the most powerful performance. Until that scene, this production suggests Bess is afraid of him; now it looks as though she just can't resist him. It makes it easier to see why she then leaves Porgy to run off to New York with Sportin' Life.
'The Gershwins' Porgy and Bess',
Regent's Park, London review
Review by Alexander Gilmou
Phillip Boykin as Crown are formidable. Boykin is a very big fellow with a voice to match…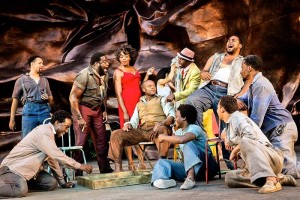 Theatre review: Porgy and Bess at Regent's Park Open Air Theatre
Phillip Boykin's stocky and bullish Crown was also a huge success with a palpable hatred and disapproval almost spewing from the audience every time he took to the stage as the perfect villain.
Porgy and Bess (Open Air Theatre)
The great American opera spends Summertime livin' it easy in Regent's Park
By : Simon Thomas
Boykin's testosterone-fuelled raging bull of a Crown dominates the stage with the size of his personality, a scary monster of a man…
The Telegraph
By: Charles Spencer
Phillip Boykin is absolutely terrifying as the murderous thug, Crown, who precipitates the show's tragedy,
theaterCat
by: Libby Purves
Phillip Boykin as Crown is so satisfying, villainously macho that he got a volley of boos at the curtain call, and roars of approval for dropping an ironic curtsey in return.
MUSICAL THEATRE REVIEW
The Gershwins' Porgy and Bess Onstage, Review
The villainous, intimidating Boykin, in particular, is capable of striking fear into the heart of the audience as well as those on stage…
Review of The Gershwins' Porgy and Bess at the Regent's Park Open Air Theatre
by Ruth Glehill
Rufus Bonds and Phillip Boykin are over from the US to star as Porgy and Crown, both watchable, dynamic actors and singers who carry us along from scene to scene on this roller coaster of a musical, surprising us with their vulnerability and, in Boykin's case, terrible yet compelling cruelty. It was amusing to see how Boykin responded at the end to the loud "boos" traditionally awarded to the best onstage baddies by British theatre audiences.
sosoGAY
Review: Porgy and Bess (Regent's Park Open Air Theatre)
A special mention must also go to Phillip Boykin, who is truly terrifying as the ultimate villain, Crown. It's been a while since we've genuinely been uncomfortable with a character every time he appears on stage, and Boykin oozes danger and red-blooded masculinity.
the GOOD review
by Kieran James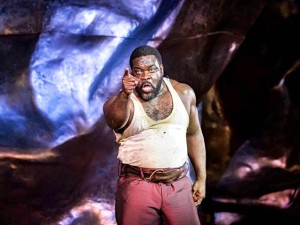 Boykin was impressive and phenomenally commanding…
THE LONDON MAGAZINE
By Edward Lukes
Boykin is a powerful presence with a voice to match.
Harper's BAZZAAR
George Smart reviews hit musical 'The Gershwins' Porgy and Bess' at Regent's Park Open Air Theatre
Philip Boykin as Crown cuts a heavy, menacing figure with a powerful baritone voice and comes to Regent's Park from Broadway
MATURE TIMES
By Robert Tanitch
Philip Boykin is the murderous Crown, a massive physical presence…
Theater Review: "Ain't Misbehavin'" at The Wick
The cast couldn't have been chosen better, working like a true vocal ensemble. Nobody tries to steamroll over anybody else, though if there's one standout, it has to be Philip Boykin, not just because he most resembles Waller; he simply brings the most unfettered exuberance to the production, acting—and reacting—with his entire jocular body, bringing to the stage the elasticity of silent-film comedy. His performance of "Your Feet's Too Big" is a bravura comic highlight.
The Joint At The Wick's Ain't Misbehavin' Starts Jumpin'
Boykin moved his large frame with a sharp-edged grace, even laying his bulk on the top of a piano in sultry chanteuse poses. But it's his bottom of the barrel baritone contrasting with glowing eyes and broad smile that captures the audience. He savors each slow syllable of "Honeysuckle Rose" as if sucking on a piece of hard candy.
by Hap Erstein
Mountainous Phillip Boykin, a 2012 Tony nominee for Porgy and Bess, is the embodiment of Waller, though the rest of the company represents other qualities of the composer as well. Boykin is surprisingly light on his feet and buoyantly comic, as seen in the winking way he puts across the snarky "Your Feet's Too Big."
BWW

Reviews

: SHOW BOAT A Magnificent Time at Music Circus
"But nothing beats Philip Boykin's smooth bass baritone voice drifting over the musical's famous anthem, "Ol' Man River." Applause thundered after the Tony Award nominee's opening night performance…"
Read more about BWW Reviews: SHOW BOAT A Magnificent Time at Music Circus by sacramento.broadwayworld.com
Sacramento's Music Circus honors classic depths of 'Show Boat'By

Marcus Crowder
"Phillip Boykin's fabulously rich, pure bass baritone envelops the classic "Ol' Man River," underscoring the song's poetic philosophy."

THEATER REVIEW | 'THE GERSHWINS' PORGY AND BESS'; A New Storm's Brewing Down on Catfish Row | BY BEN BRANTLEY
Published: January 13, 2012
For devastating theatrical impact, it's hard to imagine any hurricane matching the tempest that is the extraordinary Audra McDonald's Bess at the moment she is reunited with her former lover, Crown, played by Phillip Boykin. But as soon as Mr. Boykin's Crown calls out to Ms. McDonald's Bess, you know she's a goner. Mr. Boykin is a big man with a big rumbling baritone, and Bess (and the audience) hasn't heard a male voice of that power — that is, one that matches her lusty soprano — since he disappeared in the first act. And though part of their angry, erotically charged encounter is spoken, the boundaries between speech and song blur here.
Mr. Boykin inhabit a world of exalted, dangerous passions that is separate from the rest of the denizens of Catfish Row.
BY LINDA WINER
Phillip Boykin sings and acts powerfully as a man-monster of a Crown
Crown, is an especially deft mini-opera of evasion, resistance, temptation, and final, furious acceptance: McDonald's dramatic gifts meet and often exceed her storied vocal range. As Crown, the excellent Philip Boykin an opera-trained performer with a hydrofracking basso seems to thrive on the character's lavish Scarpian villainy: he was hissed, delightedly, by the crowd, at his curtain call, and loved every minute of it.
Phillip Boykin, making his Broadway debut as the murderous Crown, has a convincingly brute presence and a mountainous voice.
USA TODAY | BY Elysa Gardner
Phillip Boykin brings a more glowering heft to Porgy's romantic rival Crown
The No. 1 Reason To See Porgy and Bess: Audra McDonald and Phillip Boykin's brawl during "What You Want With Bess?" At the top of Act II, Bess's fearsome pimp Crown, incredibly played by Phillip Boykin, returns from hiding from the police to remind Bess that he will soon be taking her away from the cozy life she's made for herself in his absence. Bess, who has found tender love with Porgy and a sense of community with her neighbors in Catfish Row, has no intention of returning to her murky past. She sings "What You Want With Bess?," an appeal to Crown, highlighting the notion that he can find a better, younger woman to satisfy him. McDonald's delivery signifies the first time in a long time that Bess has stood up for herself. Of course, the concept of being denied only makes Crown desire Bess more, and despite her newfound inner strength, she is no match for his massive arms. As McDonald wails through the song, she and Boykin engage in a gruesome physical struggle. The gripping, pulling, and punching between McDonald and Boykin is raw and horrifically real. Yet the violence is not what makes the scene great; it's McDonald's unaffected singing throughout the brutality that creates this hypnotic juxtaposition. Credit also goes to Boykin, who is firmly committed to the viciousness of his character. However, McDonald's unwavering operatic voice throughout this mayhem is astonishing.
Phillip Boykin is a commanding Crown
PHILLY.COM
the superlative Phillip Boykin as Crown, is outstanding.
NY1 | BY David Cote
Crown, a violent gambler powerfully incarnated by Phillip Boykin.
Phillip Boykin will churn your guts as the evil, powerful Crown.
Theater Scene.Net | BY Victor Gluck
Rather than playing Crown as a charming charismatic playboy, Boykin is so convincing at making Crown brutal and dangerous that it turns Bess into a trapped woman who cannot escape from her fear, attraction or need for him.
Audra McDonald, Norm Lewis, David Alan Grier and Phillip Boykin to pull out all the stops is thrilling theater and should not be neglected.
WMNR Fine Arts Radio | BY Joanne Moryl
Crown, scarily played by bass-baritone Phillip Boykin, who has one of the most powerful voices heard in some time,
NJ newsroom
The burly Phillip Boykin looks dangerous as the brutish Crown and sings with muscular force
NEW YORK OBSERVER | BY Rex Reed
Phillip Boykin is a hardy, potent and terrifying Crown with a voice of booming iron and the malevolent force to enslave anyone within range. When he appears from the swamp after the picnic to rape Bess and drag her back from decency into a life of shame, the scene on Kiawah Island sizzles with the energy of a sexual tango that leaves not only Bess, but the entire audience, limp
METROWEEKLY | BY Doug Rule
Crown (a frighteningly great Phillip Boykin) turns into a killing, raping monster
THE THEATER SOURCE.COM | BY Carey Purcell
Crown, played by Phillip Boykin, is a frighteningly fierce presence onstage with a rich singing voice to match.